The main contact for the choir is Sileas Sinclair, our Conductress. Please contact her on 0788 165 6245.
If you have any other queries please contact the relevant person below.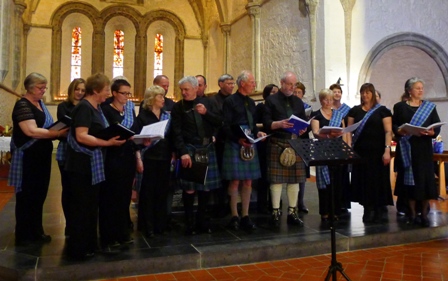 President
Mary Catherine MacLean
Vice-President
Martin Charleton
Secretary
Margaret Bennett
07915911990
Treasurer
Margaret Farmer
Join us
Although the National Mòd is often the focus for our weekly practices, we sing primarily for enjoyment and for the friendship and fun we have together.
It is expected that each member will allow a few hours a week for practising new songs so that we can consolidate and move on during choir nights. Obviously, it may not be possible to attend every week but regular attendance is desirable to ensure progress is made.
If anyone is interested in joining us just come along on Monday night. Should you require further information, please contact any of the office-bearers at the numbers given or the secretary.
We hope you enjoy being part of Oban Gaelic Choir.